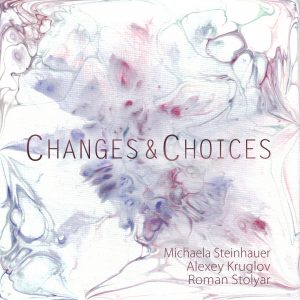 Me, myself and I
Why is she still here
She's dancing
Choices
Abandoned chapel (words and melody Ivory Stone)
Moving
Nothing new under the sun
The other day
She smiles
Changes & Choices is a conceptual album, in which the songs, connecting free tonal improvisations with a narrated story, form a drama about reminiscing about the past, letting go of the memories and emotions, and finding inner peace.
Michaela Steinhauer: music, lyrics, vocals, and storyline Roman Stolyar: piano, Alexey Kruglov: alto sax. Recorded at Mosfilm Music Recording Studio Nr.1, Moscow.
About Changes & Choices:
Dick Metcalf in Contemporary Fusion Reviews
... amazing interchanges between the sax and piano, woven very nicely in, under, around and through Michaela's alive and "on" storytelling... I give Michaela and her partners a MOST HIGHLY RECOMMENDED rating, with an "EQ" (energy quotient) score of 4.98…
Dodie Miller-Gould on Lemonwire
... The songs take audiences on a journey of emotions and personal growth: two things that modern audiences can identify with, especially in the age of COVID-19. Steinhauer's work reminds audiences how important it is to remain in touch with who they are and what they seek... An emotional journey that pays off for the listener.
Fusing a lyrical and melodic jazz-inflected showtune sensibility with whimsical free-form vocal and instrumental improvising, German born, composer/lyricist and singer Michaela Steinhauer joins forces with her longtime trio of free jazz stalwarts (alto saxophonist Alexey Kruglov and pianist Roman Stolyar) to create Changes and Choices, a fascinating conceptual, narrative driven album whose sense of character and dramatic storytelling would translate beautifully to a stage presentation ... the melodic, improvisational and sometimes avant-garde solos by Kruglov and Stolyar add rich, detailed, heartfelt textures that underscore the compelling story.
Changes & Choices lyrics
All lyrics by Michaela Steinhauer apart from "Abandoned Chapel" by Ivory Stone
1. Me, myself and I
Me, myself and I
Sat down for a chat last night
As we poured us a nice glass of wine
We agreed we had to decide
What to do
About you
You're often on my mind
You're smart and you're funny, you're witty and kind
But a habit of yours is driving me nuts
I must admit that I don't have the guts
To say that to your face
Maybe it is not my place place
But for our sake I'm thinking it through –
What to do about you?
Of course you have the right to stumble at every straw
To complain and criticize is not against any law
But your silly need to always compare and compete
To look for flaws to flout and grouse about
While ignoring the good surrounding you
Leaves you bitter and blue
And me with you
So tell me
what to do about you
2. Why is she still here
Why is she still here
After all these years
Still searching for the perfect rhyme
To the melody line that hums in her heart
And sobs in her soul
Why does she still try
While the world is passing her by
With fancier, flashier, faster sound
Why is she still bound
To sing her song
Maybe it is just because
That aside from those about glitter and gold
There are other stories that have to be told
About riches in scraps
And beauty in rags
About wisdom and virtue and grace
That's why she's still here
After all these years
A tiny voice in the growing cold
Telling stories that have to be told
And until her last breath she will try
To find the perfect rhyme
To the melody line
That hums in her heart
And sobs in her soul
3. She's dancing
She's just a simple girl
Living in her own little, simple world
Why can't they just let her be?
Pure innocence and radiant joy
Greeting each day with sweet thanks and a smile
She's perfect. Why can't they see?
There she's presenting her fancy dress
Each wobbly step a hard-earned success
How dare people deem her life not worth the while?
She's not a burden - she's a child
She's dancing, dancing, dancing
Romancing with life, embracing the sunlight
A clumsy little butterfly
Her father's pride, her mother's joy
She's learning, slowly learning
That strangers' heads keep turning
Their eyes filled with pity, with disgust,surprise
It hurts her fragile soul, she cries
Just an angel, a little angle in disguise
With slurry speech and almond shaped eyes.
4. Choices
It's dark outside
I long to stay in bed and hide
But that won't turn on any light
I'd better find a candle
I'm sad today
But moaning will not chase away
The gushes and the clouds of grey
I need to find a way to handle
The trying times of life
This day is dark but it is mine
It's mine
I choose to be
A victor, not the victim
If we hide not to be hurt again
We've stopped living
Open the doors
To your soul and let the light in
There's good and bad in everything
The scars will remain
But lifes' beauty will outweigh the pain
5. Abandoned Chapel (Ivory Stone)
There's an abandoned chapel down the road.
An old place of worship forlorn in the cold
Its haunted beauty brings tears to my eyes
It's lost its purpose like so many of the people outside
When the dust settles where will you be?
When the dust settles will you still be free?
There's an abandoned chapel near where we stayed
I used to sneak in as a child and pretend I was far away
When the dust settled I was never alone
As the dust settled I was at home
Tell me is there a way to bring these memories back to life?
And how can I restore the things that are broken or lost inside?
6. Moving

Moving

Once again,

Not even knowing

If or when

I might be back

Things I can pack

And take with me

But you, my friend,

I have to leave behind

Tears would blind

Our sight

So we just smile.

- It`s cold outside -

Still learning

To let go

That inner churning

We never know

What life might have in store

Scared to the core

There is this one first step

That leads out of the door

Yet I hesitate

To close that gate
Thank you for the love, the smiles,
The tears, the laughter that we shared
The silent understanding,
The quarrels and their mending
That showed you cared
You'll always have a home
In my soul
And a part of my heart
Will stay with you and keep me longing
As long as I am away
Tears would blind
Our sight
So we just smile
As we say good-bye
7. There's nothing new

There's nothing new
Under the Sun
Everything
Has been said and done before
So how come that we ignore
The lessons the past can teach us?
We are insane
Freezing in new regal robes
again
Hybris and phlegm have us
Choose distractions
Fake news to blind our minds
While the signs of the times are screaming
Greed and hatred and war
We've been here
We've been here before
Less than eighty years ago
London and Moscow looked like Aleppo and Holms do now
And yet we choose
Pied pipers to lead us
Who put on a show
We fall for their glow
And open doors wide
For the thieves to come and steal at night
Turning our heads
Not to see
injustice, slavery and death
We've been here
We've been here before
It took four generations
For the trauma to dilute
A bitter, muting, toxic fruit
We've been here
We've been here before
8. The other day
The other day I saw a hill
Protectively it crowned a valley
Veiled white in yarrow, elderberry
And daisies - and the skies were still.
I would have loved to show you this
Would lay a blanket on the grass,
With sweetest wine I´d fill your glass
For you to feel its peace
Those scars you've carried all your life
That broke your wings and then your spine
I'd copied them and made them mine
Fresh grounds for tears and strife
But on this hill I let them go
The pain, the fear, cast out and banished
And as my doubts and troubles vanished
I knew that I still miss you so…
9. She smiles
There's a grey-haired lady
At the corner table
Knobby fingers woven tight
Around a cup of tea
As if it was the Holy Grail
Hungrily she inhales
Its cheap aroma
Taking tiny sips to make it last
She scans the crowd with anxious eyes
Eager to collect at least a smile
A takeaway to fight the gloom
Of her cold and empty room
People drifting past her,
Scraps of conversations,
A cosmos of emotions
She's known herself so well
Plan and purpose, goal and aim
Now there is nothing more to gain
Her husband gone,
Her children grown
There's nothing left to do
But when her children call she smiles
Questions them about their busy lives
And their concerns she wipes away
All is well – that's what she'll say
Soon she'll have to leave
This island of the living
And go back into her cage
Of molding memories
How come the time flew by so fast?
But nothing's ever meant to last
She folds her napkin, cleans the crumbs
And slowly starts to rise
What's this sharp pain behind her eyes?
As she falls
She lets go – and smiles