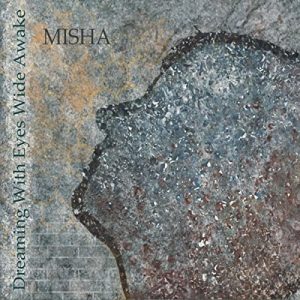 1. Here Comes Autumn Again
2. No Cure
3. Where Do I Belong
4. Hello, How Are You Doing
5. She Wonders Why
6. Family Games
7. Day and Night
8. The House Is Quiet
9. Dreaming with Eyes Wide Awake
10. Yet Another Love Song
11. Time
Original songs telling stories within stories about brokenness, depression, and healing: light, elegant, subtle, yet utterly groovy and emotional with Latin spice and European space and more than a trace of NYC swing.
Misha: music, lyrics, arrangement and vocal, Hendrik Meurkens: harmonica and vibes, Glauco P Lima: piano, Michal Jaros: bass, and Samuel Martinelli: drums. Recorded at Samurai Hotel Studios, Astoria, NY.
About Dreaming With Eyes Wide Awake:
CHRIS SPECTOR
... Misha is not an art chick but rather heir apparent to the thrush tradition. Bringing forth a set of all originals that sound like Chris Connor trunk songs you never heard, she and the crew are on point throughout knowing just how to deliver late evening brandy sipping music...
By Steve Williams

... It is clear that Misha is a very skilled song-writer and lyricist...
At times I'm reminded of the vocal delivery of Claire Martin. But more often, I'm led to think of Patricia Barber in the assured way in which Steinhauer approaches each song...