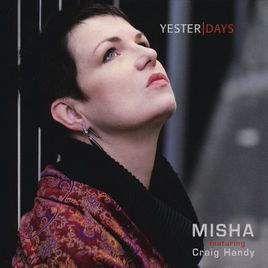 01. Yesterdays (feat. Craig Handy)
02. Come Sunday
03. Leaving On A Jetplane (feat. Craig Handy)
04. The Shadow of Your Smile
05. Round Midnight (feat. Craig Handy)
06. When I Need You
07. Softly As In A Morning Sunrise
08. In the Wee Small Hours of the Morning
09. It Never Entered My Mind (feat. Craig Handy)
10. Slap That Bass
11. I've Grown Accustomed To Your Face
12. Somewhere Over the Rainbow
Misha arrangements and vocals. Recorded with Craig Handy (tenor sax), Jim Ridl (piano), Luquez Curtis (bass) and Vince Ector (drums) and produced by JD Walter in New York. This is not your usual selection of well-known jazz standards. Misha embellishes classics with new harmonies and rhythms and turns them into stunning new and intimate testimonies of life. Her accompanying musicians provide sensitive support as well as classy groovy improvisation.